Created by Magical Gnomes!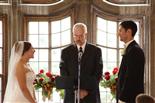 Purdue Graduate School ('10-'11) - Semester VI
So essentially the only reason that I am still pursuing my PhD here at Purdue is (and always was) because I want to eventually be a professor. I thoroughly enjoy teaching at the university level and most universities require their professors to have PhDs. Though, there are exceptions. Therefore, I continue jumping through the hoops on my journey that will hopefully lead to a doctoral degree. Because my end goal is to be a professor, I thought it might be useful to take a course in engineering education. My awesome graduate committee agreed, and so this semester I enrolled in one of my two remaining classes.
ENE 502 - History &amp Philosophy of Engineering Education
This class is essentially incorrectly named. It should be "Philosophy & History of Philosophy of Engineering Education." Nevertheless, though I reached this conclusion relatively early in the semester I decided to stick with it to the end anyway.

This class was far different from any class that I've taken recently. It is reminiscient of a general education or liberal arts class that I would have taken while pursuing my undergraduate degree here. The format of the class was basically a three hour session of group discussion and summary once a week along with readings and a few writing assignments. Oh, and we made a YouTube video. Yup.

Admittedly there were a number of interesting discussions that took place and I at least walked away with some more insight into the time-sucking exercise that is philosophy. That said, I left even more confused about the purpose of the School of Engineering Education here at Purdue.

I spoke with a number of my classmates, all of whom were enrolled as graduate students in ENE. Their descriptions and expectations of the program were as varied and confusing as my personal thoughts on the matter. It will be ineteresting to see what they get out of the program, if it helps them with their careers, and whether over time the program solidifies into something with a well-defined purpose.

Regardless, as a result of this experience I now have only one remaining course to take in pursuit of my PhD.
RCAC - HUBzero
I continue to work with the HUBzero team here at Purdue, taking on even more responsibilities. From managing our nameservers to setting up new hubs and sharing in maintaining the configuration management system. At this point we have hired a couple of additional people to help with system management and I've also been helping bring them up to speed. Hopefully this will allow me to reallocate some of my time to research. Regardless, I'm thankful for the flexibility that I've been allowed so far and I continue to enjoy my job.
BAND 110 - Marching Band
Eleven years and counting. This year we took a trip to Illinois, so I can add that to the list of pressboxes that I've been in. Although, I suppose technically it was already on that list as the banquet for
Middleware 2009
was held there. Nevertheless for some sick reason I still enjoy providing video services for the band, at least for the most part.
"WEDD 201" - Marriage
The week before classes started I also married my beautiful, wonderful fiancée, Shelley Lee Havrilesko. More information including pictures and our archived wedding website can be found on
turkstra.net
.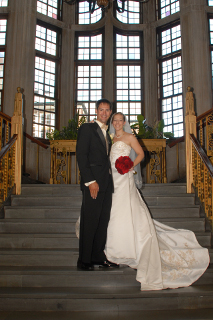 "LIFE 301" - Pregnancy
At the end of the semester, in December, my wife and I were happy to discover that we had successfully conceived a child. It's the start of another, very different, chapter in our lives. More will invariably follow. :-)