Created by Magical Gnomes!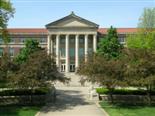 Purdue Graduate School ('07-'08) - Semester II
It is worth mentioning that I had originally planned to take this spring semester off. I had gotten permission from my advisors at Purdue and had even gone so far as to secure a job and apartment in Steamboat Springs, CO. That changed abruptly when I was asked to remain here and teach ECE 469, the undergraduate operating systems course. It was an offer that I could not resist and thus I am still here - instead of out west skiing.
ECE 469 - Operating Systems Engineering
My teaching endeavors continue - this class being the pinnacle of my adventures thus far. Running a four credit-hour senior-level undergraduate course with 30 students is in many respects more difficult than a sophomore-level course with 120. It's at least more challenging. The students actually know things now, and the content is significantly more interesting.

As a result, I thoroughly enjoyed teaching this course. The students were great - many of them I had taught previously in 264 and/or 364 - and the content was something that was of personal interest to me. My sincere thanks go out to both of my TA's - Omar and Satyajit - as well as the students for making this semester worthwhile. I can honestly say that I am glad that I delayed my "ski trip."

I would also be remiss if I didn't thank Charlie Hu, for giving me the opportunity in the first place; Dennis Brylow, for providing me with a large chunk of reference material from when he taught the course; and my advisors - Dave Meyer, Mark Johnson, and Sam Midkiff for their continued support. Thank you all!
NCN - Network for Computational Nanotechnology
This semester marks the first time in three years that I am not doing something with ECN. At the start of this semester I began working with the Network for Computational Nanotechnology (NCN) on a research project developing virtualization middleware for use on their "hubs."

It's incredibly interesting stuff and most likely something I can write a thesis on - improving my odds of graduating at some point.

Most of my time this semester was devoted to 469, but I expect this project to consume increasingly large amounts of my life as time progresses.
Rant
I've made it almost 8 years at Purdue without publicly ranting about the university. That ends today.
Dr. David A. Leppla was the fourth director of Purdue Bands and gave seventeen years of his life to the university in service. His departure - excuse me, "retirement" - was, shall we say "less than ideal" being the result of certain unnamed individuals' politicking. If I learned one thing from all of this it would probably be that the squeaky wheel really does get all of the grease. Never underestimate the power of a small minority that just won't stop whining.
I'm not going to spend time on that subject though, as I'm sure most of the people involved would prefer the details remain buried and I don't have the physical evidence to back up any statements that I would make - nor the desire to pursue a Freedom of Information Act request to obtain that evidence.
Nevertheless, upon his retirement hundreds of current and former band members were taken by surprise - none of us really had any opportunity to thank or recognize Dr. Leppla for his time and contributions made here at Purdue. In an effort to correct this unfortunate situation I and a number of other band alums began circulating a petition. Instead of re-explaining everything covered by the petition and its associated letter, I'll simply include those both now:
Jeffrey A. Turkstra Electrical Engineering Building 465 Northwestern Ave. West Lafayette, IN 47907-2035 Monday, April 7, 2008 Board of Trustees and President Córdova Hovde Hall 610 Purdue Mall West Lafayette, IN 47907-2040 Dear Trustees and President Córdova, I am sending this letter on behalf of hundreds of Purdue alumni and students that have been or are currently members of Purdue Bands (specifically the Purdue "All-American" Marching Band). We respectfully request that the university consider awarding Dr. David A. Leppla the emeritus title in appropriate recognition of his time spent at Purdue University and his many outstanding accomplishments and contributions, of which some are detailed below. As you likely are aware, Dr. David A. Leppla served as Purdue University's 4th Director of Bands starting in 1990 and retiring on June 30, 2006. Dr. Leppla had a distinguished career full of great accomplishments, demonstrating complete dedication to all aspects of his position. He improved the lives of students through his teaching and honored Purdue through his service. He has touched the lives of thousands of people in the Purdue family as well as hundreds of thousands of fans around the world. During his seventeen years of dedicated service, Dr. Leppla greatly expanded many aspects of the Purdue Bands program. Several faculty positions were created and record enrollments were seen - particularly in Purdue's Concert Bands and thanks to his encouragement. He also created and redefined many programs relating to outreach activities, public relations, alumni contact as well as Purdue Bands' involvement in campus and community arts activities, to name a few. During Dr. Leppla's tenure significant expansion of development activities took place resulting in the creation of numerous student scholarships and awards. Dr. Leppla continually pursued efforts with the Purdue Alumni Association to create a Purdue Bands Alumni Club - something which saw its fruition shortly after his retirement. Under Dr. Leppla's supervision we saw the creation of the wildly successful Purdue Jazz Festival as well as the resumption of Purdue Band Day (originally started in the 1970's) - two events that unquestionably grow and reinforce Purdue's musical reputation with respect to Indiana High Schools. The Purdue Jazz Festival in particular has garnered international recognition for its educational activities. The creation of a Youth Education Concert, bringing nearly 2,000 grade school children to the Elliott Hall of Music was another hallmark of his legacy. Purdue Bands in general flourished as new performances were added and the overall quality of ensembles improved. Under Dr. Leppla Purdue Bands also saw a renewal of national and international travel and performance opportunities for groups like the Purdue Jazz Band, the Purdue Symphonic Band, and of course the "All-American" Marching Band. Under his direction, the marching band toured nationally and internationally to high acclaim. In 1992 the "All-American" Marching Band became the first college band to appear in the Singapore Chingay Procession. Dr. Leppla also expanded the marching band's activities back on campus including the creation of what is now known as the traditional Fountain Concert following home football games. During his tenure, according to critics the marching band had never performed better in its history. As evidence of this fact, in 1995 the Purdue "All-American" Marching Band, under the direction of Dr. David A. Leppla, earned the honor of receiving the Sudler Trophy - often referred to as the "Heisman Trophy" for college bands. During Dr. Leppla's tenure the "All-American" Marching Band was also named as one of the top five marching bands in America by ESPN. Dr. Leppla has also played significant roles in important external organizations such as the John Philip Sousa Foundation, the Sudler Trophy Committee, and the Big Ten Band Directors. Upon his retirement, Dr. Leppla was awarded the Distinguished Hoosier Award by the Governor and State of Indiana - one of the highest honors bestowed upon a Hoosier. (Past governors awarded the Signature of the Wabash award in a similar manner). Issued on May 27, 2006 the award recognizes Dr. Leppla as an individual who has distinguished himself through significant contributions to his community and whose qualities and characteristics reflect the best of the great State of Indiana - earning him the respect and admiration of Hoosiers across the state. The following day, May 28, 2006, was also officially proclaimed "Dr. David A. Leppla Day" in Indianapolis, IN as issued in an award from the Office of the Mayor of Indianapolis. Everyone who knows him knows "Doc" to be a man of unyielding integrity, holding himself to the highest of moral and ethical standards. In fact, fairness was one of the great hallmarks of his administration. He always placed the best interests of his students first. The great reputation that Purdue Bands has developed over the years speaks volumes of Dr. Leppla's high personal and professional standards. Attached you will find a PDF file containing the signatures of over 270 present and past members of the Purdue "All-American" Marching Band. These signatures were collected on two dates - Friday, October 28, 2007 (Homecoming) and Monday, December 1, 2007 (the final marching band rehearsal of the season). The petition has been exposed to a small sampling of Purdue Bands alumni and students. It is obvious that hundreds of additional signatures could be obtained given extra time and effort. However, we believe that Dr. Leppla's reputation in large part speaks for itself. His contributions during his tenure at Purdue University are undeniable and unquestionably deserving of recognition. As the petition reads we recognize the uncountable contributions and sacrifices that Dr. David A. Leppla, former Director of Bands at Purdue University, has made over his seventeen years at Purdue University. As evidence and recognition of Dr. Leppla's contributions and service, we respectfully request that the university consider awarding Dr. David A. Leppla the emeritus title in appropriate recognition of his time spent at Purdue University. I would be more than happy to meet with you personally should you wish to discuss this matter more. Thank you for your time, and Hail Purdue! Sincerely, Jeffrey A. Turkstra Chappelle Fellow School of Electrical and Computer Engineering cc: Interim Provost Lechtenberg cc: Vice President Robinson cc: Dean Contreni cc: Head Sigman cc: Director Gephart
I personally take issue with having my own signature floating around the Internet and I suspect many of the other signees have similar feelings, so I am not going to include signatures, but a copy of the original petition can be viewed
here
.
In the interest of openness and full disclosure it is worth mentioning that shortly after the letter above was received by the listed recipients, Prof. Jay Gephart - current director of Purdue Bands - replied to the listed recipients with his own email. Unfortunately I have been unable to obtain a copy of this reply, as detailed by
Prof. Gephart's second email
. I also submitted a request to the President's executive assistant for a copy but never received a reply.
Regardless, a little over three weeks later we finally received an
official response
to our petition.
I'm flattered by having been assigned the title of doctor, but just to avoid any confusion at the time of this writing I have yet to obtain my PhD. It is also worth mentioning that Purdue Bands is not part of nor really associated in any way with Purdue Musical Organizations (PMO). I'll give Dr. Lechtenberg the benefit of the doubt and assume those were honest errors instead of ones due to writing the letter in haste.
As you may have noticed at this point the response leaves a lot to be desired. For instance, why? I spent a great deal of time thinking about replying with another letter asking just that but have decided against it. Dr. Leppla's retirement was the result of politics, and the response to such a question will only be more veiled politics.
I will say this, however. I believe this to be one of the rare instances where Purdue University has catastrophically failed in its capacity as a public institution. Regardless of what his critics have to say, during his seventeen years here Dr. Leppla went above and beyond what was required of his position. He helped uphold and even improve this university's reputation and he provided unwavering support for his students. By the university's own policies he should
by default
have been awarded emeritus status. Instead Purdue has functionally exiled one of its own.
I truly do not believe words can describe how disappointed I am by this entire situation. I spent some time trying to organize sometimes many words in such a way to convey my disgust and disappointment and failed every time. The times where I felt I had even partially succeeded I would wait a day and re-read what I had written. Invariably I would conclude that it was too harsh and inappropriate for me to post publicly.
So there you have it - a brief and partial glimpse into the dark side that plagues every large institution. Purdue is no different from the rest in that regard.