Created by Magical Gnomes!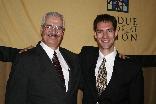 Purdue Graduate School ('05-'06) - Semester IV
Some days I feel like a hamster trapped on one of those running wheels...
CS 503 - Operating Systems
One of my favorite areas, I thoroughly enjoyed this class. The labs were outstanding - we got to play with a "real" operating system on real hardware. From process scheduling to virtual memory we experienced the x86 architecture in its full glory. The professor wasn't that great, but the lecture material matched very closely that which we covered in undergrad OS, so it didn't matter that much.

The one thing that did really bother me though was the exams. They were, well, computer science exams. They focused more on abstract concepts like maintaining system invariants and the differences between mechanisms and policies. Things that when it comes down to implementation, at least from an engineer's standpoint, seem to me to be common sense and in actuality can and often are twisted a little to make life easier. In fact there were times in XINU where we broke an invariant or two. Oh well. I could rant about it all day long, but the labs more than make up for the course's other shortcomings.
ECE 608 - Computational Models and Methods
Yeah so I might be in graduate school, but that doesn't mean I know everything. It also doesn't mean that I did not take a lackadaisical approach to my first semester in graduate school. That's right, I was stupid my first semester and failed to take things as seriously as I should have. As a result I obtained a slightly lower than desired grade in this course. It wasn't terrible, but it was definitely enough to have an impact on my GPA. So, this semester I set out to remedy that problem. I did it, and I'm actually really glad I retook the class too; I'm much more comfortable with the material.

Professor Givan once again taught the class, and though I may be biased having taken the class from him once before, I felt he did a much better job teaching it this time around. Overall it was a good experience.
ECE 663 - Compiler Code Generation, Optimization, and Parallelization
Also known as "Advanced Compilers." I'm still a little unsure how I ended up enrolled in this class. I never took an undergraduate compilers course, and I never took the graduate level compilers course either. Both were supposed prerequisites for this class. Nevertheless, after talking to my advisor (who also happened to be teaching the course) repeatedly I decided to enroll.

As it turns out it wasn't a complete disaster. I learned a ridiculous amount about compilers in a rather short time, and I walked away with some useful knowledge. Admittedly, however, one compilers class is enough for me...
BAND 117 - Concert Band
I didn't make it into Symphonic Band this semester, and I regretted it for about two seconds. Right up until the point where Dr. Leppla announced his unexpected retirement. I consider the opportunity that I had to participate in this ensemble during its final semester under Dr. Leppla to be quite possibly the highest honor I have ever experienced.

I imagine some of the members of the band department silently cheered to themselves when he announced his departure. Some were indifferent, but most were undoubtedly saddened. I have spent the past six years working with Dr. Leppla's department and his ensembles. He has been and still is, without question, one of the few individuals that I always look to as a role model. He is one of the greatest persons that I have ever had the privilege to know. For seventeen years he upheld the traditions of Purdue University and created a surprising number of new ones. He has always done an amazing job directing the Purdue "All-American" Marching Band. I know - I was there for over a third of his tenure!

I still remember my freshman year, when I first auditioned for the marching band. I was terrified. Everything was new, and the only thing that I knew for certain then was that I wanted to be in the band. I didn't even know hardly anything about the marching band when I came to Purdue. I had never seen them march; I had never even heard Hail Purdue. I just knew that I loved music, and that I loved marching. I was so excited and happy when I discovered that I had made it. The first two years, and even after that, I was in a sense scared of Doc. It wasn't because I thought he was mean, uncaring, or angry. It was in fact, almost the exact opposite. He was the epitome of competence. He demanded the best from everyone, and he almost always got it. I have never in my life met anyone capable of demanding so much respect, attention, and commitment from a group of people as he does.

He always, and I mean always, said that we deserved all the credit whenever anything went well. I believe that was one of the few instances where he was in error. Given a group of talented, bright individuals, the person in charge always ends up looking good. But to maintain the reputation of Purdue Bands for 17 years, regardless of the quality of individuals, speaks to him and him alone.

It saddens me greatly to see Doc leave. I was really looking forward to working with him another year, possibly as the graduate assistant. I almost certainly would have returned to march under him yet another year. With the loss of Dr. Leppla and Professor Kissinger, the department is going to experience changes of a magnitude probably unequaled by any in its over a century of existence. They may not happen right away, but they will eventually. I hope that 5 or 10 years down the road Purdue Bands will still resemble the organization that we were both a part of.

I feel that it is also unfortunate that Dr. Leppla left with such relatively short notice. He may not have been all that interested in receiving similar awards to those that Bill received, but that doesn't change the fact that he deserved them all - and more. Awards aren't just for the recipients - they give those that care a chance to say thanks. I know that there are a lot of people that are truly grateful for everything that Doc has done, and that understand the sacrifices he made over the years to ensure the continued existence and quality of Purdue Bands.

Dr. Leppla: from the humor that came from watching you dress up as Bobby Knight my freshman year to the long, endless rehearsals in the stadium parking lot working to make the band all the better, to the countless days spent on the field while you watched and instructed from the tower above, you are, in my mind and in the minds of many, many others the greatest band director that has ever been, and ever will be. Thank you.